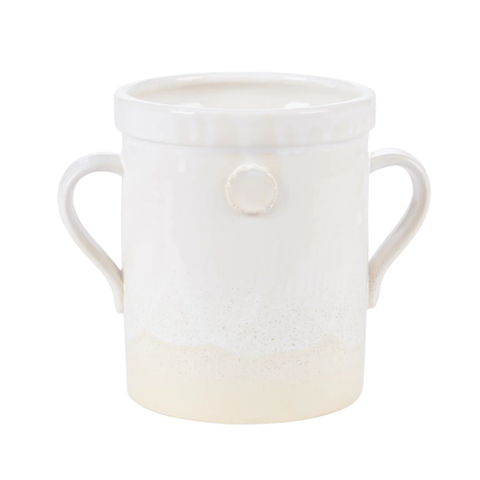 White Handthrown Crock - extra small
Handcrafted from white European clay, the Handthrown Pottery Collection is created by European artisans on an original potter's wheel. The pieces are inspired from classic European kitchens, mixing traditional designs with contemporary style. While each item is different and will vary due to the handcrafted technique used to create them, each piece boasts a unique lush glaze to enhance authenticity. The raw clay is left untouched on the bottom, while the top portion is dipped in a warm, white lead-free, non-toxic glaze for the perfect mix of traditional design and contemporary style.
Overall: 4.5" dia, 7" h




Handle: 2" w x 1.5" h




Capacity: 1 qts



Glaze drips are a desired effect to enhance the individuality of each piece.
Phthalate, BPA, lead and latex free
Made in Europe
The utensil crocks were inspired by an Italian staple, the olive jar. It makes an ideal utensil holder next to your stove or as a flower vase on your counter.